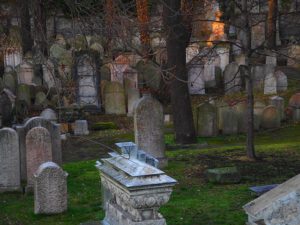 It is often said that God always answers prayers.  It's just that sometimes the answer is "No," or "Not yet," rather than the "Yes" we may desire.  But there is one type of prayer that God always answers "Yes!": prayers for physical healing.
Now, I know that this will provoke incredulity.  Perhaps you've prayed for the healing of your body and have not seen the answer you seek.  Perhaps you've prayed for a loved one, a friend, a family member – you've sought the Lord in prayer, have done so in faith, and yet…the healing did not occur.
I have prayed for the physical healing of many people who are no longer living.  I've asked God to strengthen wearied bodies that now rest in the ground.  I've asked God to take away diseases that eventually proved fatal.  And, yet, I reaffirm that God answers every prayer for healing with "Yes!"  How so?
Well, it begins with a fundamental doctrine of the Christian faith: the doctrine of the resurrection of the body.  If you have ever affirmed The Apostles' Creed, you have affirmed the doctrine of the resurrection of the body ("I believe in the resurrection of the body….").  Likewise, The Nicene Creed ("We look for the resurrection of the dead…").
What is the resurrection of the body/dead?  Most Christians don't know what they are affirming when they say these words (even though this is foundational belief).  In short, when Christ returns (on Judgment Day) our souls will be reunited with our bodies – our dead bones will live again in perfect, immortal, incorruptible bodies that never grow weary, get sick, or die.  Our bodies will be like Christ's resurrected body.
Paul teaches this doctrine in a very long chapter, 1 Corinthians 15:
51 Behold! I tell you a mystery. We shall not all sleep, but we shall all be changed, 52 in a moment, in the twinkling of an eye, at the last trumpet. For the trumpet will sound, and the dead will be raised imperishable, and we shall be changed. (1 Cor. 15:51-52 ESV)
Paul didn't make this stuff up.  It had been taught in the Old Testament.  It is affirmed by Jesus in John 5:28-29:
28 Do not marvel at this, for an hour is coming when all who are in the tombs will hear his voice 29 and come out, those who have done good to the resurrection of life, and those who have done evil to the resurrection of judgment.  (Jn. 5:28-29 ESV)
It is also described in Revelation 20:
13 And the sea gave up the dead who were in it, Death and Hades gave up the dead who were in them, and they were judged, each one of them, according to what they had done. (Rev. 20:13 ESV)
The general resurrection isn't only for believers, but also for non-believers.  It is one of the greatest examples of God's common grace to all men.  Even those destined for judgment are graciously given the gift of a resurrection body:
2 And many of those who sleep in the dust of the earth shall awake, some to everlasting life, and some to shame and everlasting contempt. 3 And those who are wise shall shine like the brightness of the sky above; and those who turn many to righteousness, like the stars forever and ever.  (Dan. 12:2-3 ESV)
This is a great and comforting doctrine in many ways.  It means that we'll be able to hug each other in the new heavens and new earth.  We'll be able to share a meal (without getting fat!).  We'll be able to recognize one another (but not from our scars, warts, etc.!).  There are many other practical implications of this doctrine. One is the answer to our prayers for healing.
Often from our time-bound perspective a prayer for healing goes unanswered.  But from the vantage point of eternity it will be evident that every prayer we ever offered for healing is answered, and the answer is "Yes!"  There will be no tears, mourning, dying.  There will be no cancer, strokes, or heart disease.  There is instead the eternal "Yes!" of God.