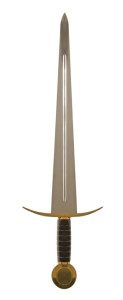 12 For the word of God is living and active, sharper than any two-edged sword, piercing to the division of soul and of spirit, of joints and of marrow, and discerning the thoughts and intentions of the heart. 13 And no creature is hidden from his sight, but all are naked and exposed to the eyes of him to whom we must give account. (Hebrews 4:12-13, NIV)
When Alexander the Great came to Phrygia he was confronted by the challenge of the Gordian Knot.  Legend had it that whoever untied the knot would become the ruler of all of the world, something which Alexander greatly desired. In his own inimitable style, Alexander took up his sword and hacked the knot in two.  Probably not what the Phrygians had in mind!
The book of Hebrews describes God's word using the metaphor of a sharp double-edged sword.  Like Alexander's encounter with the Gordian Knot, God doesn't mess about with our human pretense.  He slices right through it.  We think ourselves pretty complex, but…not to God!
God's word is "living and active" – it does things!  It isn't static.  It brings transformation.  That is its purpose and function.  It's rather a violent image, especially when applied to oneself – a vivisection of the inner man.  God's word divides soul and spirit.  What does that even mean?  I don't know exactly, but it means that God is hacking away at the inner man in ways that I can't even know or understand.
There is no point in trying to hide from God.  There is no defense we can put forward to fend him off.  We must submit to him.  Our pretense is as useless as Adam's fig leaves before a holy God.  Don't try to hide from him.  Let his word pierce you.  Read scripture, but, more importantly, let scripture read you.  And he will change you.