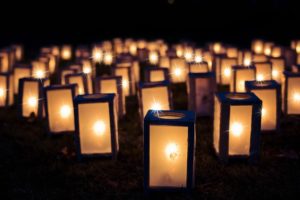 "Like a kid at Christmas…."  We can relate to that picture, can't we?  The unbridled joy and excitement of presents piled deep and high, stockings brimming over with unopened goodies?  The time free from school and normal cares for extra doses of food, candy, and cookies?  The family gatherings, the decorating, and the worship (I hope this is one of your memories, if not make it one this year!).
I loved Christmas as a kid (I know, completely obvious).  I remember my brothers and me sneaking out of our bedrooms with contraband flashlights extracted from below our pillows, stealing out by night to gaze lustily upon stacks of gifts piled high and deep below the tree.  I remember (almost as vividly as I can remember anything) waiting to open those presents with expectation.  Opening our stockings (containing our new toothbrushes and an orange!) before breakfast.  My mom always liked to build the anticipation and delay the glorious moment when we would fling ourselves wildly, Troy-Polamalu-style, pell-mell, upon our presents.  Bliss!
Now as a parent, I get to watch my own kids do the same.  It is more fun than being a kid at Christmas to watch your kids at Christmas.  Great, good stuff.  The thrill of a day spent in exultant exuberance, ending only when their little bodies undergo one final spasm of blood sugar collapse, and themselves collapse in a heap for a long winter's nap.  Bliss indeed.
As wonderful as it all is, it is impossible not to think this year of those parents in Newtown who will wake up Christmas morning to silence rather than shrieks of glee.  Who will gather around a tree with unopened packages which will remain unopened.  For whom the fond memories of a child's delight in the blessings of Christmas will only bring the deepest of laments.
This is part of the Christmas story too.  It isn't all joy and delight. "Rachel weeping for her children and refusing to be comforted, because they are no more" (Matt. 2:18).  There were in Bethlehem many fathers and mothers who longed to hold their little babies, who wept because they were no more.
Remember as you delight in the blessings of Christmas that the necessary corresponding emotion to exultant exuberance is the pain and despair that accompanies grief.  The loss of a loved one leaves pain that is only exacerbated in the midst of all the holly jolliness.  Remember those who grieve while you enjoy your joy.  Say a prayer for Newtown; extend some grace and care to those mourning closer to your home.