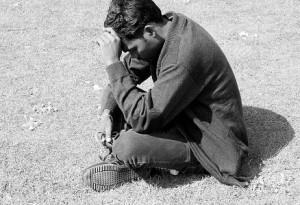 I feel altogether inadequate in my prayer life.  I'm a crummy pray-er.  I'm highly distractible in prayer (despite being an intensely focused person generally).  I'm inconsistent in prayer.  I tell people I'll pray for them, then forget to do so.  I fall asleep praying.  I start praying, then realize I'm thinking about the Steelers depth chart (or a thousand other random unrelated items).  I stink at prayer.
This would seem to be something of a liability as a professional pray-er.  Praying is sort of my job.  I pray in public.  I lead corporate prayer.  I'm also frequently asked to pray for various groups, meetings, conferences, etc.  I've prayed for babies, houses, cars.  I even prayed for a firetruck once.  I also pray with and for people – almost every day I pray with a sick, struggling, or dying person.  Despite frequent practice, I still think I'm no good at it.
I don't think I'm alone.  I don't know many folks who consider their prayer life to be particularly stellar.  My biggest heroes in prayer, prayer warriors, are often pretty quick to confess their prayer lives aren't what they think they ought to be.  I include in this list many pastors.
What's wrong with our prayer lives?  A bunch of stuff really.
Some of what's wrong is definitional and relates to a misunderstanding of the nature of prayer. What is prayer?  That is a question that requires some consideration.  Sometimes we assume the answer, and sometimes we're wrong.
Sometimes what's wrong is theological. We believe the wrong stuff about how prayer works.  We're not really very clear on what we're doing, or what God's doing.
Sometimes what's wrong is behavioral. We're doing it all wrong.  Sometimes we are praying the wrong things, or in the wrong way, or for the wrong reasons.
Sometimes what's wrong is that we are just plain not praying. It's all well and good to affirm faith with our lips, but if we aren't living out the faith relationally through prayer we aren't really living the life of faith at all.  The proof is in the pudding (and the central ingredient in the pudding might be prayer).
We really need to listen to Jesus – his words and his witness.  One of the main themes of his teaching and ministry was prayer.  It is astonishing how much Jesus has to say about prayer.  It is central to all he has to say.  The only things Jesus talks about as much as prayer are hell, money, and the kingdom of God.  That's it.  Prayer is in the top 4.
The disciples got a lot of things wrong.  Very often they totally misunderstood what their master was all about.  He'd be talking about his impending death and resurrection, while they were arguing about which of them was the greatest (Mark 9).  But one of the smartest things the disciples ever did was to ask Jesus for a prayer lesson:
Luke 11:1  One day Jesus was praying in a certain place. When he finished, one of his disciples said to him, "Lord, teach us to pray, just as John taught his disciples."
This is one of the wisest things any disciple of Jesus could ever say.  And it comes from a sense of their own inadequacy in prayer.  They recognize in Jesus something they lack: real intimacy with the Father.  They long for it.  And they submit to his teaching.  They've got something to learn, and Jesus is their teacher.  We must do the same.  Let's come to Jesus as our teacher.
We'll spend some time in the coming months considering what Jesus has to say about prayer.