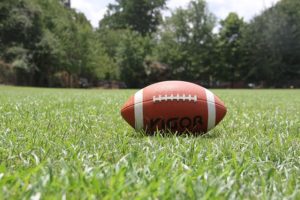 I just read a great book – The Games that Changed the Game, by Ron Jaworski, et al.  Yep, the same Ron Jaworski who played quarterback for the Philadelphia Eagles in their 1980 Super Bowl, and who currently works as an NFL analyst.  I like Jaws' style – he's a totally nerdy X's and O's type guy whose analysis actually analyzes.  You can genuinely learn from his technical expertise.  He watches some ridiculous number of tens of hours of tape every week, then shares what he has learned.
The book itself covers seven particular NFL games that changed the way the game is played – particular games that unveiled in a significant way the innovations that forever altered the way football is played.  It was like a walk down memory lane for me – I remember watching most of the games featured in the book (though I was admittedly too young for the first two).
Jaws looks at great offensive innovators like Don "Air" Coryell, whose Chargers lit it up in the 80's with Dan Fouts, and Bill Walsh, whose offensive innovations were even more successful using the West Coast dink and dunk (with some kid named Montana).  He also analyzes great defensive innovations like the Bears 46 defense (The 85 Bears defense really was the best I've ever seen – and I'm a Steeler fan!).  Two of the seven innovators are Black and Gold defensive geniuses – Bud Carson's Cover 2 defense of the 70's with so many great hall-of-famers literally changed the rules of the game (the "Mel Blount rule"), and, of course, the Dick Lebeau Zone Blitz.
It is astonishing how the game has evolved and continues to evolve.  As Jaws says, the game doesn't just change from year to year, but from week to week.  Thousands of hours of film study, numerous adjunct coaching assistants, all seeking one wrinkle, one weakness, one tendency, something to exploit – week in and week out.
It's not just the NFL that sees constant innovation.  You see the same phenomenon in warfare.  Middle Age knights gained an enormous technological advantage over their adversaries using plated armor, until the advances of armor-piercing longbows and crossbows.  There has been continuous military innovation from catapults to the atomic bomb.  Even that isn't the end – from the a-bomb (which can wipe out Hiroshima) to the h-bomb (which can wipe out the east coast!).  Now drones (and mini-drones).  Next up…cyber warfare.
There are other innovations as well, as there are other forms of warfare.  Our enemy isn't ultimately North Korea or the New England Patriots, but Satan.  And he prowls around like a roaring lion looking for someone to devour.  Preferably you.  And he never rests.  As NFL week follows week, as nation takes up sword against nation, so our enemy never ceases his work – looking for vulnerabilities, chinks in the armor.  Read Screwtape Letters for a refresher on the tactics.  Study your game film.  Put on your armor.  Sunday's coming.
Ephesians 6:11-13   11 Put on the full armor of God so that you can take your stand against the devil's schemes.  12 For our struggle is not against flesh and blood, but against the rulers, against the authorities, against the powers of this dark world and against the spiritual forces of evil in the heavenly realms.  13 Therefore put on the full armor of God, so that when the day of evil comes, you may be able to stand your ground, and after you have done everything, to stand.