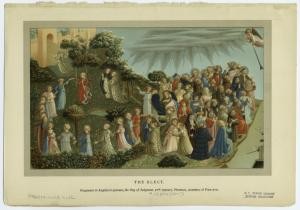 In our last post we took up the difficult problem of Unanswered Prayer.  Why didn't God answer my prayer?  We began first to look at some essential ingredients to the kinds of prayers God answers.  One of those essential ingredients is that God answers the prayers of his children.
Most people would assume, "That's no big thing; we're all God's children!  Right?"  But…are we?
Who are God's children?
Many labor under the assumption that all humans everywhere are God's children.  This is one of the hallmarks of classic liberal theology: the fatherhood of God and the brotherhood of man.  This sounds great.  We are all God's children as humans.  God is a father to us all.
There is a sense in which this is true. God certainly displays his love and grace to all humanity in many ways.  He causes the rain to fall, the sun to shine, on the just and unjust alike.  He blesses all humanity with good gifts: marriage, family, beauty, and much else.  All humans are created in the image of God. All human life, from conception to natural death, is sacred to God.
But…there is another sense in which he is not a father to all.  He is a father instead only to his children.  This does not include all humanity.  Indeed, many people (Jesus says!) have the Devil for their father (See John 8).  The problem is sin.  Human sinfulness has separated us from God.  In fact it has made us enemies of God (Rom 5:10)!
So how does one become a child of God?
We become adopted by God.  This is one of the biblical metaphors for what happens when we come to faith in Jesus Christ.  God adopts us as his sons and daughters.  We become children of God.  Children "not of blood nor of the will of the flesh nor of the will of man, but of God"  (John 1:13).
What benefits do we receive as God's children?
Well, there are many.  Salvation, heaven, an eternal reward.  But also the abundant life in this life.  This doesn't mean wealth or health necessarily.  It does mean the opportunity to experience joy, peace, purpose, significance in this life, as well as a sure and certain hope in light of the Day of Christ's return.  It also means we have a certain set of assurances in prayer.
We have access to God's grace
One of the benefits of our salvation is "access" to the grace of God.  The apostle Paul says that it is only God's children who have this access.
Therefore, since we have been justified by faith, we have peace with God through our Lord Jesus Christ. 2 Through him we have also obtained access by faith into this grace in which we stand, and we rejoice in hope of the glory of God. (Rom. 5:1-2 ESV)
Doesn't everyone have "access" to God?  Doesn't he hear all prayers?  God is omniscient; he can't help but hear all prayers.  But he doesn't listen to all prayers in the same sense.  Because he's our father, we have access to many benefits that non-children simply don't have.
A son can come to a father and be listened to in a way that a non-son never could.  Compare: "Hey, Dad, can I have twenty bucks and your car keys?" and "Excuse me, Mister, can I have twenty bucks and your car keys?"   Different, no?

One of the extraordinary things about being a child of God is that not only do we have access to God in prayer, but God himself helps us pray…and even prays for us!
Christ intercedes for us.  As part of his work as our Great High Priest, Christ, the Son of God, intercedes with God the Father on our behalf.
25 Consequently, he is able to save to the uttermost those who draw near to God through him, since he always lives to make intercession for them. (Heb. 7:25 ESV)
Not only does God the Son pray for us, but also God the Holy Spirit.  As children of God, we are sealed with the Spirit of sonship – the Holy Spirit.
14 For all who are led by the Spirit of God are sons of God. 15 For you did not receive the spirit of slavery to fall back into fear, but you have received the Spirit of adoption as sons, by whom we cry, "Abba! Father!" 16 The Spirit himself bears witness with our spirit that we are children of God, 17 and if children, then heirs– heirs of God and fellow heirs with Christ, provided we suffer with him in order that we may also be glorified with him. (Rom. 8:14-17 ESV)
When we don't know what to pray, the Holy Spirit often "takes over" and prays for us:
26 Likewise the Spirit helps us in our weakness. For we do not know what to pray for as we ought, but the Spirit himself intercedes for us with groanings too deep for words. 27 And he who searches hearts knows what is the mind of the Spirit, because the Spirit intercedes for the saints according to the will of God. (Rom. 8:26-27 ESV)
When God seems indifferent to your prayers, remind yourself of the reality of things: God the Son and God the Spirit are actively interceding on your behalf.
We are able to pray with the assurance of God's benevolent, fatherly care.
Jesus says we can take it easy when we pray.  We don't need to ask God for everything in the world (he knows what we need).  He is watching over his children always to provide all that he knows we need (don't you for your kids?).
9 And I tell you, ask, and it will be given to you; seek, and you will find; knock, and it will be opened to you. 10 For everyone who asks receives, and the one who seeks finds, and to the one who knocks it will be opened. 11 What father among you, if his son asks for a fish, will instead of a fish give him a serpent; 12 or if he asks for an egg, will give him a scorpion? 13 If you then, who are evil, know how to give good gifts to your children, how much more will the heavenly Father give the Holy Spirit to those who ask him!" (Lk. 11:9-13 ESV)

31 Therefore do not be anxious, saying, 'What shall we eat?' or 'What shall we drink?' or 'What shall we wear?' 32 For the Gentiles seek after all these things, and your heavenly Father knows that you need them all. 33 But seek first the kingdom of God and his righteousness, and all these things will be added to you. 34 "Therefore do not be anxious about tomorrow, for tomorrow will be anxious for itself. Sufficient for the day is its own trouble. (Matt. 6:31-34 ESV)
Does it make a difference in our understanding of prayer that we are children of God through faith in Jesus Christ?  It makes all the difference in the world.  It is an essential ingredient to the kinds of prayers that God hears and answers.