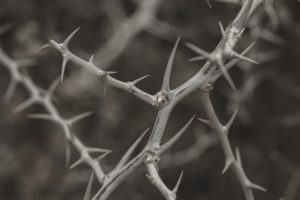 What kind of ministry would Joni Eareckson Tada have had if she had never been paralyzed?  What kind of hymns might Fanny Crosby have written were she not entirely blind?  We'll never know, and that's a good thing.  The reality is, without having been paralyzed Joni would likely not have had a ministry at all.  Without her blindness Fanny would probably never have written Blessed Assurance or To God be the Glory.
This kind of strength in weakness is seen in many great saints, many ordinary everyday Christians, and it is also on display through many biblical examples.
It is tremendously encouraging to see from scripture that I'm not the first person to wrestle with unanswered prayer.  I'd like to take some time to consider some biblical examples of unanswered prayer and the lessons those examples teach.  The first of these from a pretty significant fellow: the apostle Paul.
Paul is the author of thirteen books of the Bible.  He is the apostle to the Gentiles.  He personally met the risen Lord Jesus Christ.  He established scores of churches in dozens of different provinces throughout much of the Roman Empire.  In short: Paul is an important guy for Christians.  And yet…Paul struggled with the problem of unanswered prayer.
We see evidence of this in his second letter to the church in Corinth:
7 So to keep me from becoming conceited because of the surpassing greatness of the revelations, a thorn was given me in the flesh, a messenger of Satan to harass me, to keep me from becoming conceited. 8 Three times I pleaded with the Lord about this, that it should leave me. 9 But he said to me, "My grace is sufficient for you, for my power is made perfect in weakness." Therefore I will boast all the more gladly of my weaknesses, so that the power of Christ may rest upon me. 10 For the sake of Christ, then, I am content with weaknesses, insults, hardships, persecutions, and calamities. For when I am weak, then I am strong. (2 Cor. 12:7-10 ESV)
Paul says that he was afflicted by "a thorn" which "was given me in the flesh."  There has been much ink spilled on the topic of the thorn in Paul's flesh.  What in the world is he talking about?  What is his thorn?
He doesn't tell us the nature of his affliction.  This has led to many competing theories.  Some believe it to be a physical affliction: references made elsewhere to his eyes (which were perhaps lastingly damaged on the Damascus road) lead some to think that Paul had repeatedly asked God for physical healing.  Though he had healed others on many  occasions, this healing did not come for him.  I don't know that this is the nature of Paul's thorn, but it's possible.
Others speculate that the thorn has some other basis – perhaps a spiritual struggle with sin in some way.  Some have hypothesized a struggle with some form of sexual temptation (though Paul seems to be model of incredible sobriety in the area of sexual temptation – I think this is not at all likely).  Still, a battle against a besetting sin or temptation (especially given the reference to Satan, the great tempter) is entirely possible.
The truth is we don't have any idea what the thorn is because Paul doesn't seem to think it important to make note of it.  If we needed to know, he would have told us.  The important thing from his perspective is that he had this miserable "thorn" and he asked (here understand "asked in prayer"!!!) for it to be taken away.  Paul asked three times…and his prayer went unanswered.
It is more accurate to say that his prayer was answered, but not by the thorn's removal.  It was answered instead by the Lord saying "My grace is sufficient for you, for my power is made perfect in weakness."   That is an answer.  It just isn't the answer that Paul was hoping to hear.
God didn't give Paul what he wanted because the thorn was working a good for him and for his witness.  How can suffering be a good?  Because, in Paul's case, it forced him to rely not upon himself and his own resources, but upon God.  The "thorn" forced Paul to recognize his own resources were inadequate, and that forced him to rely upon God's grace to persevere.
This serves a tremendous good for Paul's witness.  He is able to use it to model to the Corinthian church.  The Corinthians are beset by the sin of pride.  They are conceited, arrogant, and self-reliant.  Paul is able to say – look at me as an example of discipleship.  Not one of self-reliance, but of reliance upon God.  I can't even fix myself; I'm dependent upon God for all things.  And so are we all.
The truth is that sometimes God doesn't answer our prayers in the way we desire because persevering in trials is the only antidote to our tendency toward Satanic self-reliance.  We need to be reminded of our inherent weakness in order to learn the necessity of relying upon God's strength.