Sunday Morning,  9:00am
LET THE CHILDREN COME
At Mt Pleasant, our kids spend their Sunday school time learning the Westminster Shorter Catechism and memorizing God's Word through songs, games, and discussion. Fun tools connect them to each other, to great truth and to the God of the Bible! Meanwhile, adults learn how we can all interact with the kids to get them — and keep them — excited about this learning!
We invite your child to one of our K-12 classes:
 Age 3-K—Teacher Becky Smeltz
 1st-2nd Grade—Teacher Carol Olson
 3rd-4th Grade—Teacher Jennifer DeLong
 5th-6th Grade—Teacher Holly Garland
 Jr/Sr High—Teachers Paul & Brenda Schaefer
Every family in our congregation receives its own copy of "Training Hearts, Teaching Minds", a great interactive family devotional based on the Shorter Catechism. If your home doesn't already practice household worship, this is a great way to start — and it ties in directly with what your children are learning in Sunday School! Enjoy time together and how to engage your "home team" in learning God's truth.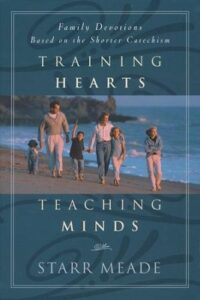 ---