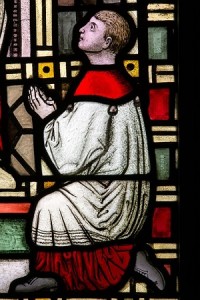 One teaspoon of botulinum toxin is enough to kill more than 1 billion human beings (or so the Internet tells me; I've never experimented).  Some ants can lift as much as 5,000 times their body weight.  Small doesn't mean weak.  More of something isn't always better than less.  This is true of prayer.
It is absolutely certain that the most commonly prayed Christian prayer in history is the Lord's Prayer, the Our Father, or whatever name we give this prayer.  The disciples, recognizing their great need for help in their prayer lives (help that we desperately need as well!), asked Jesus to teach them to pray.  Jesus accedes to their request:
Luke 11:2-4  2 He said to them, "When you pray, say: "'Father, hallowed be your name, your kingdom come.  3 Give us each day our daily bread.  4 Forgive us our sins, for we also forgive everyone who sins against us. And lead us not into temptation. '"
Matthew's version of the prayer parallels this closely:
Matthew 6:9-13    9 "This, then, is how you should pray: "'Our Father in heaven, hallowed be your name,  10 your kingdom come, your will be done on earth as it is in heaven.  11 Give us today our daily bread.  12 Forgive us our debts, as we also have forgiven our debtors.  13 And lead us not into temptation, but deliver us from the evil one.'"
This is not a long prayer.  In Greek, Luke's version has 38 words; Matthew's has 57 words.  Words, mind you.  The Declaration of Independence has 1,458 words. The Gettysburg Address, widely praised for its succinctness, has 272 words.  In short: this is not a long prayer.  We should learn something from this.  Especially since the preceding context in Matthew's gospel is this:
Matthew 6:7-8   7 And when you pray, do not keep on babbling like pagans, for they think they will be heard because of their many words.  8 Do not be like them, for your Father knows what you need before you ask him.
In other words: part of the reason I'm giving you this prayer is so that you won't yammer on forever in your prayers.  There is no need for that!  God doesn't need a laundry list; he knows what you need before you ask him.  Just letting God know stuff is not the purpose of prayer.
Nor is prayer filling up time with lots of words.  There is no virtue in length for length's sake, or as Jesus puts it, "babbling like pagans."  It's pagans who value logorrhea, not God.  Prayer is simple.  Kids get this.  And I've never had someone complain to me, "Hey, fella, that prayer was too short!"
Sometimes folks feel their prayers are too simple, too raw.  They are afraid to pray in public because of their self-perceived lack of sophistication.  They devalue their own prayers because of the lack of verbosity, floweriness, or poetic ornamentation.  Yet, the model prayer of Jesus is a model of simplicity.  It is profound, but it is simple.
Here are some of the most profound (and shortest/simplest) prayers of the bible:
Matthew 20:31  "Lord, Son of David, have mercy on us!"

Mark 9:24  "I believe; help me overcome my unbelief!"

Matthew 8:2   "Lord, if you are willing, you can make me clean."
No complex syntax.  No vivid metaphors.  Just the simple request of a trusting soul.  The kind of prayers that anyone can offer (and that children do).  The kind of prayers that Jesus answers (see each of these in context, and the Lord's response).  These kinds of prayers can't be improved upon.
In prayer, keep it simple.  Really great prayer can come in tiny and unadorned packaging.